Invisalign® Clear Aligner Therapy
If the smile you see in the mirror leaves you feeling underwhelmed because of crooked teeth, large gaps, crowding, or a misaligned bite, you may be considering orthodontics. Did you know you don't have to spend years in metal braces to get the straight smile you've always dreamed of? With the help of Invisalign clear aligner therapy, you can straighten your teeth without anyone noticing, and you'll have a more uniform smile faster than with traditional braces. At Hooks Family Dentistry, our team can work with you to design your ideal smile and create a personalized Invisalign treatment course to help you achieve your goals.
Schedule Your Consultation
How Invisalign Works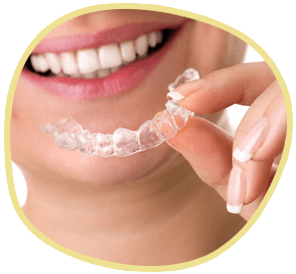 Unlike traditional braces, which use a pulling method to move teeth, Invisalign works by pushing teeth into the desired positions. This makes for a gentler, more comfortable process. Our patients love that the aligners are also nearly invisible, so they can continue to smile with confidence knowing that no one knows they're wearing orthodontics.
To start your treatment, Dr. Hooks will visit with you for a one-on-one consultation. At your consultation, we encourage you to let our team know your goals for your smile as well as any concerns you have about the treatment process. We'll go over everything in detail and answer all your questions. We will also use this time to design your new smile using computer software and take impressions of your teeth as they currently are. The lab will use the smile design and impressions to create your first sets of Invisalign trays. Once your trays are ready, come in for a quick fitting and instructions. Then, we'll send you home with your first two sets of trays to wear on the schedule we recommend. Switch out your trays approximately every two weeks, and visit our office every four to six weeks to receive the next trays in the series. Before you know it, your treatment will be complete and you'll have a new smile to show off!
Benefits of Invisalign
Barely visible clear material
Smooth plastic trays that don't cut cheeks or gums
Removable aligners – eat, drink, brush, and floss like normal
Shorter average treatment time than traditional braces
Fewer check-in appointments
How Much Does Invisalign Cost?
At your consultation, one of our team members will go over your expected out-of-pocket costs. We don't want budget concerns to keep you from a beautiful, healthy smile, so we'll work with you to find the best financial option for you.
Get the straight smile you deserve with the help of Invisalign!
CONTACT US